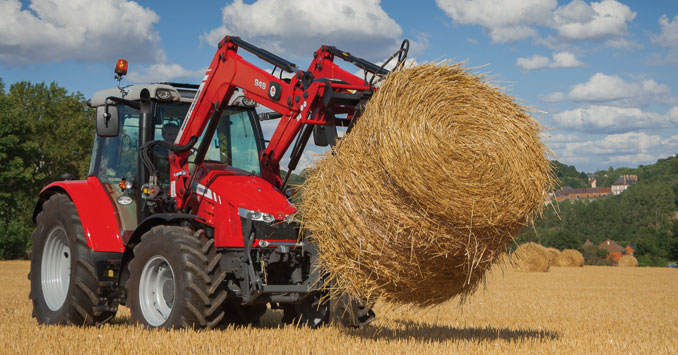 5700SL Series (110 – 130 hp)
The Ultimate Workhorse.
When it comes to mid-range tractors, you'll be hard-pressed to find another brand with more years of experience, working in more crops and conditions, in more places around the world, than Massey Ferguson®. And every bit of that experience went into the creation of the award-winning 5700SL Series.
You get the unmatched visibility, versatility and performance you demand from a smaller 110-130 HP tractor. The steep-angled hood provides an unobstructed view in any application, while the high-flow hydraulics, legendary Dyna-4 transmission and fully-integrated multi-function loader joystick let you confidently use any implement. The upgraded cab is stylish on the outside, comfortable on the inside and features ergonomic placement of all modern automotive controls, giving you a true workhorse that provides unbeatable performance and comfort.
Features
• Dyna-4 Transmission – The Dyna-4 transmission smoothly shifts gears automatically. Four ranges provide 16 forward and reverse speeds without having to use the clutch, while the left-hand power control lever enables convenient, straightforward operation.
• AGCO Power TM 4-Cylinder Engine – The Tier 4 Final 4-cylinder, 4.4L intercooled turbocharger provides all the power you want. The advanced SCR technology meets emissions requirements, saves time and makes for easy maintenance. And with no need for a diesel particulate filter, power is available whenever, wherever you need it, without compromising fuel efficiency.
• Versatility 3-Pump Combined Flow – The optional 3-pump combined flow enables the use of a wide variety of implements based on application. One pump is dedicated to steering, transmission and PTO, while the other two can work in tandem or separately, one for loader work and one for spool valves. With the simple press of a button, they can combine, so your loader can react more quickly or direct oil to the back for implements that need more hydraulics.
• Visibility Steep Nose Hood – Our exclusive angled-hood design provides unmatched visibility in loader applications, so you can work more efficiently and with more confidence.
• Visio Roof – Provides greater all-around visibility, especially for loader applications.
• Comfort & Ease of Use Cab – These tractors feature a stylish, roomy cab with inclined steps and large opening doors for easy entry. Conveniently-placed controls and reduced 70 DBA noise levels make this our most comfortable, quiet cab yet.
• Auto-Guide TM 3000 – The optional fully-integrated auto-guide steering solution delivers user-friendly guidance capabilities that allow you to work faster, smarter and more efficiently.
• Joystick – All major tractor functions, including changing direction, changing speeds, declutching and operating the loader, are handled by the joystick. Working is simple because the operator doesn't have to change hand positions to change speed or gears.
• Optional SpeedSteer TM – Easily engaged and disengaged with the push of a button, SpeedSteer provides variable-ratio steering that changes the number of steering wheel turns required to move the front wheels from lock to lock.
• Setup & Information Screen (SIS) Full-Color Dash – The large, non-polarized dash enhances visibility and resolution in a simple-to-navigate system. You can adjust tractor functions and settings right on the screen, without the need for an additional console.
Specifications
| Model | Maximum Engine Power HP (kW) @ 1,900 RPM | PTO HP @ 2,200 Rated RPM (kW) | Engine | Transmission | Base Weight Without Ballast lb (kg) |
| --- | --- | --- | --- | --- | --- |
| 5711SL | 110 | 85 | AGCO Power™ 4-cyl, 4.4 L, intercooled turbocharger, high-pressure common rail direct fuel injection (HPCR) | Dyna-4 16 x 16 Powershift and Power Shuttle Transmission, Available 13:68:1 Creeper | 2WD: 8,929 (4,050) 4WD: 10,582 (4,800) |
| 5712SL | 120 | 95 | AGCO Power™ 4-cyl, 4.4 L, intercooled turbocharger, high-pressure common rail direct fuel injection (HPCR) | Dyna-4 16 x 16 Powershift and Power Shuttle Transmission, Available 13:68:1 Creeper | 2WD: 8,929 (4,050) 4WD: 10,582 (4,800) |
| 5713SL | 130 | 105 | AGCO Power™ 4-cyl, 4.4 L, intercooled turbocharger, high-pressure common rail direct fuel injection (HPCR) | Dyna-4 16 x 16 Powershift and Power Shuttle Transmission, Available 13:68:1 Creeper | 2WD: 8,929 (4,050) 4WD: 10,582 (4,800) |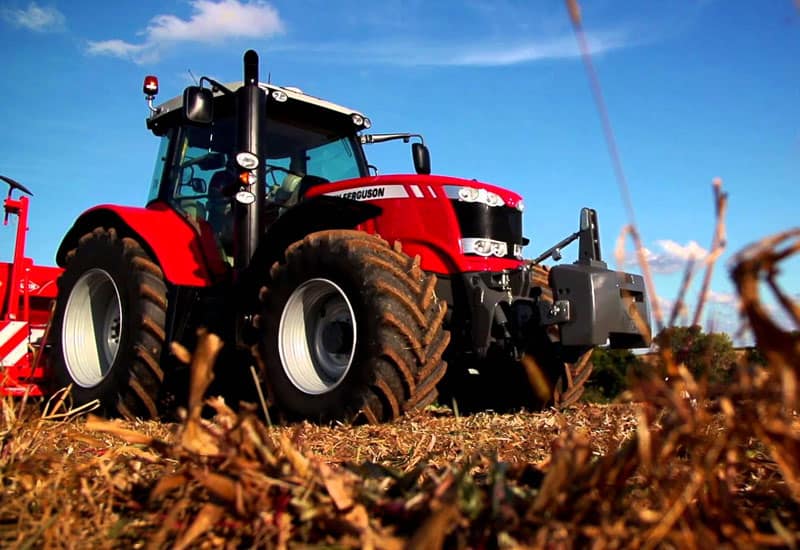 6700S Series (140 – 160 hp)
The Right Tractor For The Right Job.
The 6700S Series, our premium mid-range tractor, gives you the four-wheel power and performance you need, the comfort and easy operation you want and the versatility to get the job done. Whatever the job may be. A reinvented design built around heavy-duty components gives you long-lasting durability and reliability.

Pre-fit to pair with the MF900 Series loader, you won't find a more capable, comfortable or maneuverable tractor/ loader combination. With your choice of three transmissions, you can be sure a 6700S tractor will fit your operation like a glove. Whether you're simply doing a lot of heavy loading, doing medium-sized tillage work, pulling a mower conditioner or baling hay, the Massey Ferguson 6700S is the tractor you've been waiting for.
HAY – If you're mowing, baling or hauling, the 6700S Series will be your employee of the month — all year long. Powerful enough to pull bigger balers, bigger mower conditioners and carry heavier bales, it does it all more efficiently than the competition. And of course, it works seamlessly with Hesston by Massey Ferguson® hay equipment.

DAIRY FARMS – Dairy operations need a tough, do-everything tractor. From heavy lifting to heavy loading, you've found the tractor that can keep up with you and still maneuveur into tight spaces. You work hard and put in a full day's work, so you deserve a cab that's comfortable. The 6700S Series is ergonomically designed with everything you need at your fingertips.

SMALL FARMS – It's the workhorse you need that's reliable and easy to operate. Tough and versatile enough to keep your operation running, the 6700S Series will be there right beside you, sunup to sundown. No other manufacturer has more experience with more crops, more conditions and more farmers for more years than Massey Ferguson.
Features
• ENGINE - The easy to maintain 4.9 liter AGCO Power™ engine is Tier 4 Final compliant, featuring common rail fuel injection. Combined with high airflow through four valves/cylinders, it efficiently manages the combustion process to deliver optimum power and higher fuel efficiency. Selective catalytic reduction (SCR) technology further helps meet emissions requirements.

• TRANSMISSION - With three transmission choices, you can be sure you get the performance your operation needs. Dyna-4, Dyna-6 or Dyna-VT™ all include pedal mode AutoDrive with an Automatic setting and Engine Power Management. Dyna-6 features a larger hydraulic offering than the Dyna-4 and optional electrical PTO speed control. And Dyna-VT gives you a smooth, shift-free CVT driveline and 4-speed PTO.

• HYDRAULIC LIVE 3RD OPTION - Massey Ferguson offers a Live 3rd option on the 6700S Series. Maneuvering or adjusting a heavy load has never been easier when you can open or close, raise or lower, dump or curl an implement at the same time. Get more done, and get it done faster and easier.

• HEAVY DUTY REAR LINKAGES - Extra strong, reinforced linkages provide a lift capacity of up to 11,244 pounds. With a total of five spool valves available, you can be sure whatever you need to do will have the hydraulic power it needs. And the rear couplers are equipped with a hydraulic decompression system on closed center options for easy removal of implements.

• MECHANICAL ACTIVE CAB SUSPENSION - Integrated into the tractor's design for a better angle of oscillation, you get a more stable ride, providing hours of fatigue-free operation. Available only on premium models.
Specifications
| Model | Max Engine Power HP (kW) | Rated Engine Power HP (kW) | PTO HP (kW) @ 2,200 Rated RPM | Engine | Transmission |
| --- | --- | --- | --- | --- | --- |
| MF6714S | 140 (104) | 130 (97) | AGCO Power™ 4- cyl, 4.9 L, intercooled turbocharger,high-pressure common rail direct fuel injection | Dyna-VT | 120 (89) |
| MF6715S | 150 (112) | 140 (104) | 130 (97) | AGCO Power™ 4- cyl, 4.9 L, intercooled turbocharger,high-pressure common rail direct fuel injection (HPCR) | Dyna-4, Dyna-6 or Dyna-VT |
| MF6716S | 160 (119) | 150 (112) | 140 (104) | AGCO Power™ 4- cyl, 4.9 L, intercooled turbocharger,high-pressure common rail direct fuel injection (HPCR) | Dyna-6 or Dyna-VT |