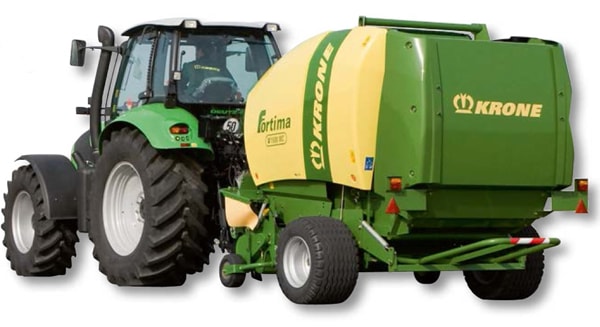 Variable-chamber round balers
The fixed bale chamber produces 1.25 m (4'1″) or 1.55 m (5'1″) diameter bales.
The variable bale chamber produces 1.00 -1.50 m (3'3″- 4'11") or 1.00 -1.80 m (3'3″- 5'11") diameter bales.
The chain-and-slat elevator handles the most difficult conditions.
The camless EasyFlow pick-up boosts throughput and reduces wear and tear.
The selectable MultiCut cutting system features 17 blades.
Twine tying system for four threads.
The well-proven net wrapping system for even higher throughputs.
Reduced wear costs yet optimized crop collection
EasyFlow is a camless pick-up that does without a cam track, offering obvious advantages over controlled system: A simple assembly uses fewer moving parts than controlled cam tracks and gives extremely quiet running, which in turn reduces wear and tear and ultimately service and maintenance and service costs. EasyFlow – a powerful system that leaves no stem behind.
EasyFlow Pick-up without cam track
Clean rakes for higher outputs.
Quiet running.
Minimum wear – minimum maintenance.
Finest quality of cut!
The KRONE MultiCut rotor cutter features 17 blades to produce short cuts that pay off quickly by higher bale densities, enhanced silage quality as well as easier and faster bale break-up on the feeding fl oor. It has been shown that short straw provides for easier spreading and better absorption of liquids while being easier to dispose of.
MultiCut The cutting-edge concept
Controlled cutting results in a superior quality.
64 mm (2.5″) chops by the full set of 17 blades.
Central blade selection system quickly changes.
cutting lengths
The 'grippy' system for straw, hay and silage balesRound balers harvest straw, hay and wilted silage around the world in a wide variety of conditions that require full operational reliability. The chainand-slat elevators respond to these requirements and operate dependably in all these conditions. These elevators will deliver – gentle but fi rm on the material, with slats 'meshing' with the bale to provide positive rotation and maximum baling pressure.
The chain-and-slat elevator A gripping system
High baling densities.
Powerful bale roll.
Less fragmentation.
Low power input.
Successful baling
Leverage your business and take advantage of our Fortima F 1250 / F 1600 fixed chamber round baler models with and without MultiCut system. Featuring a camless pick-up, a slat elevator with heavy-duty chains, maximum bale densities, an uncluttered design, ultimate durability and ease of maintenance, these balers offer quick payback on your investment.
The fixed chamber models Fortima F 1250, F 1250 MC, F 1600, F 1600 MC
Fortima F 1250: 1.25 m x 1.20 m (4'1″ x 3'11") diameter bales.
Fortima F 1600: 1.55 m x 1.20 m (5'1″ x 3'11") diameter bales.
Enclosed bale chamber with strong slat-and-chain elevator.
Firm and well-shaped bales produced from low input power.
Variable bale diameters of up to 1.80 m (5'11") Stunning simplicity
Our variable Fortima V 1500 and V 1800 models tick all boxes, giving 1-1.50 m (3'3″- 4'11") and 1-1.80 m (3'3″- 5'11") diameter bales from one machine to cater for grass silage applications where smaller bale sizes are preferred as well as applications in hay and straw where larger bales are typical.
Variable chamber balers Fortima V 1500, V 1500 MC, V 1800, V 1800 MC
Variable 1.00 m to 1.50 m (3'3″ to 4'11") or 1.00 m to 1.80 m (3'3″ to 5'11") diameter bales.
Two separate and endless elevators give dependable operation in the most difficult conditions.
A heavy-duty design that copes with very heavy material.
Easy maintenance for reduced costs
Buying a Fortima means tapping into KRONE's long and vast experience and expertise in baler manufacturing. We at KRONE understand the needs of farmers. Our round balers operate around the world and have proven excellently in a wide variety of conditions. Providing high bale densities, KRONE balers are extremely robust, uncluttered and perfectly specified. Last but not least, they offer superior operational reliability.
Variable bale chamber Carefully designed down to the smallest detail
Bale density is controlled infinitely variably.
The extra spiral roller speeds up bale starts.
The optional bale ejector ejects the bale actively.
Four threads bring four-fold quality
The quad twine wrapping system from KRONE impresses by significantly shorter tying cycles compared with traditional twin wrapping systems. Four threads make for plenty of overlap and multiple layers on the edge for firm bales and maximum densities. The quad twine system is controlled from the Comfort on-board electronic system.
Quad twine wrapping Tight and fast
Shortest tying cycles, shorter than cycles using twin twine.
More bales per hour.
Less fuel and less labour cost.
Less fuel per bale
Fortima's net wrap system is straight forward by design and offers superior functionality. The advantage of net wrapping is that it is faster than twine wrapping and helps you produce more bales per hour. Higher throughputs free
up valuable time that can be spent on other jobs and cut the tractor's fuel consumption per bale. The net wrap system accepts rolls with a total net length of up to 3,600 m (11,811 ft).
Net-wrapping Perfect wraps for perfect bales
Short baling cycles for more bales per hour.
Bales break up quickly and easily.
Compact feed system and positive net feed.
Easier work
KRONE offers a choice of electronic control units that help reduce operator stress and fatigue. Each control box features a clear and uncluttered screen that displays all relevant machine data and a user-friendly interface.
Operation More comfort, less fatigue
High operator comfort from a graphical user interface.
Clear design.
Compact size.
Easy maintenance for reduced costs
Not only is Fortima designed for highest densities and outputs but also for an uncluttered layout and easy access to all service points. Service and maintenance are as easy as it can get, with lubrication banks and automatic chain lubrication cutting effort and time down to a minimum. We took care of every detail.
Fortima High in output, low in maintenance
Easy access for easy maintenance.
Automatic chain lubrication.
Option on fixed-chamber Fortima models.
Automatic chain tensioning.
The universal machine
Special conditions require special equipment. To meet all our customers' requirement, Fortima is available with a wide range of running gear. Choose from standard and tandem setups, braked and unbraked versions as well as air and hydraulic brakes (export version).
The running gear You'll go for this!
Auto-levelling in undulating terrain.
Outstanding operator comfort.
Excellent tracking.