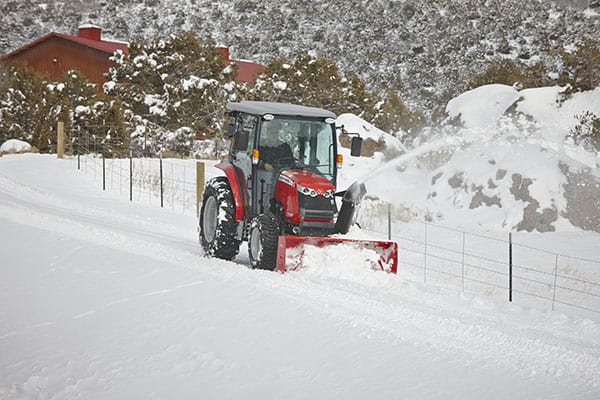 The Right Tractor for Any Season
Winter presents its own special challenges. And Massey Ferguson compacts offer just what you need to meet them head on. Whether you're a property owner or a contractor, you'll find that these nimble tractors are powerful, comfortable and easy to maneuver, with a wide range of implements that are easy to control.
Built for Snow and Ready to Go
Our goal is to make your winter works effortless as possible. So we've given careful consideration to everything from versatility to visibility to efficiency.
The standard 4WD front axle on the 1700 Series Premium tractors provides additional tractor in the snow for better performance. And our high quality steering angle enhances maneuverability. A factory loader joystick on the 1700 Series Premium tracts is integrated into the console to keep the design smooth and operation easy. And hydraulic valves at the tractor's mid-point simplify implement connection.
Top it all off with improved visibility and better ventilation on cab models to keep frost off the windows. And whether you're pushing a blade, broom, blower or bucket, you've got a compact that can handle anything winter dishes out.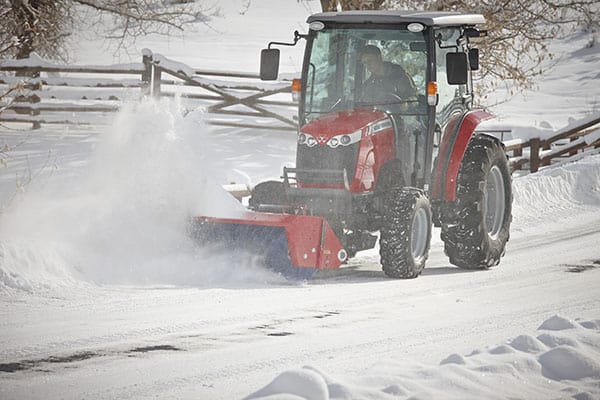 Massey Ferguson 1410 Snow Blower Attachment
• Patented Quick Hitch, Cat B
• Overall width 63″
• Overall height 53.125″
• Overall height without chute 23.8″
• Drive system: 1885 – 2000 RPM Gearbox in oil
• Driveline Protection: Shear bolt
• 14″ diameter auger
• 4 blade blower fan
• Hydraulic lifting mechanism
• Hydraulic Main chute left /right
Massey Ferguson 1507 Snow Blower Attachment
• Patented Quick Hitch, Cat BC
• Overall width 74″
• Overall height 27-1/2″
• Driveline Protection: Shear bolt
• 14-3/4″ Diameter Auger
• 4 Blade blower fan
• Lifting mechanism: Hydraulic
• Hydraulic Main chute left / right
• Replacement cutting edge and ski shoes
• 2 Part Chute Standard
When 1700 Premium Tractor shoppers select a tractor for snow removal their decision basically boils down to :
1) Can I get by with just the front loader dirt bucket and scoop the snow off the driveway as with  a giant snow shovel.
2) Or would I like to use a snow push such as are often used at large parking lots
3) Or do I want to be able to windrow the snow to the left and right edges of the driveway  like a town road plow
4) Or do I want to blow the snow clear of the driveway leaving no banks at the driveway edges and be able to move deep snow quickly.
4a) If so do I want to save a lot of money by purchasing a 3pt rear snow blower and battle the snow with 2 weapons-the front loader and rear blower.
4b) Or do I so dislike driving backward that I will am willing to purchase a more costly front mounted blower to have the comfort of driving forward as I blow. With this front mount option the loader arms and bucket are generally detached from the tractor (Loaders are designed to be hydraulically dismounted).