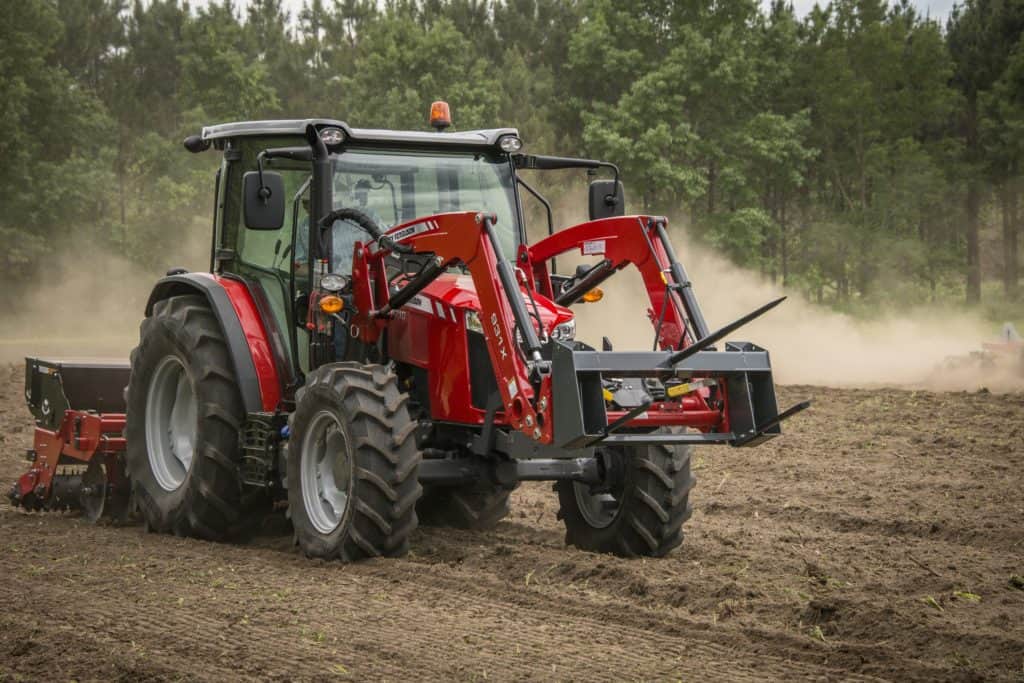 4700/5700/6700 Global Series (70 – 130 hp)
A part of the largest manufacturing and new product project in AGCO history, the 4700 Series has been completely re-engineered from the ground up and built in our new state-of-the-art manufacturing facility. These tractors are the result of years of insight from farmers, contractors, operators and dealers from around the world. And they have been put through more than 50,000 hours of rigorous endurance testing in extreme weather and terrain conditions. From the rice paddies of Southeast Asia to the oppressive heat of Africa to the bitter cold of Northern Europe to the grueling applications required for farming in North America, these tractors have been through it all.

These heavy-duty tractors are purpose-built for more lift capacity and the power to pull larger, heavier implements. They are tractors unlike any that have come before them.
Features
You've got a ton of different jobs to tend to each day, and the last thing you need is a feeble tractor that shies away from the really tough ones. The 4700 Series is heavier than other tractors in its class, uniquely designed to handle larger, heavier implements and more demanding applications. So yeah, it'll be there when you need it.

• HEAVY DUTY – At a best-in-class base weight of 7,125 lbs., the 4700 Series is purpose-built for more pulling power and more lift capacity. Not to mention better maneuverability and more stability.
• NO HITCH LIKE THIS HITCH – There's virtually no limit to the range of implements you can put behind these tractors. Two gear pumps power the simple, open-center hydraulic system, and a heavy-duty three-point hitch helps provide a rear lifting capacity of nearly 4,850 lbs.
• RADIAL TIRES – Premium radial tires come standard on the 4700 Series. Built exclusively for agricultural use, these tires provide better stability and traction in the field, reduce soil compaction and improve fuel economy. Plus the patented interlug terraces enhance self-cleaning in muddy soil. As a result, you enjoy superior handling, a smoother ride and reduced wear on the tractor.
• 2WD/4WD – The 2WD axle comes with five track-width settings in 4-inch steps to accommodate virtually all crop or field conditions. An optional hydraulic-controlled differential lock on the 4WD front axles ensures that drive is evenly distributed to both wheels for better traction and greater stability.
• TIGHT TURNING RADIUS – Sometimes you need to work in confined spaces. These tractors feature a tighter turning radius for easier maneuverability with better stability.
• ADJUSTABLE WHEELS – With a wide range of wheel-spacing settings, these tractors are versatile enough to handle everything from specialty farming applications, like small-scale row crops and vegetables, to roadside mowing and land management applications.

Specifications
| Model | Rated Engine Power HP (kW) @ Rated RPM | PTO HP @ Rated RPM (kW) | Engine | Transmission |
| --- | --- | --- | --- | --- |
| 4707 | 70 (52.2) | 58 (43.2) | AGCO Power™ 3-cyl, 3.3 L, intercooled turbo-charged, high-pressure common rail direct fuel injection (HPCR) | Classic 4707: 8F X 8R, 2 range, syncro-shuttle, mechanical shuttle lever Deluxe 4707: 12F X 12R, 2 range, power-shuttle, electro-hydraulic shuttle lever |
| 4708 | 80 (59.6) | 68 (50.7) | AGCO Power™ 3-cyl, 3.3 L, intercooled turbocharger, high pressure common rail direct fuel injection (HPCR) | Classic 4708: 8F x 8R, 2 range, Syncro-Shuttle, mechanical shuttle lever Deluxe 4708: 12F x 12R, 2 range, Power-Shuttle, electro-hydraulic shuttle lever |
| 4709 | 90 (67.1) | 78 (58.1) | AGCO Power™ 3-cyl, 3.3 L, intercooled turbocharger, high pressure common rail direct fuel injection (HPCR) | Classic 4709: 8F x 8R, 2 range, Syncro-Shuttle, mechanical shuttle lever Deluxe 4709: 12F x 12R, 2 range, Power-Shuttle, electro-hydraulic shuttle lever |
| 4710 | 100 (74.6) | 88 (65.6) | AGCO Power™ 3-cyl, 3.3 L, intercooled turbocharger, high pressure common rail direct fuel injection (HPCR) | Classic 4710: 12F x 12R 2 range, Syncro-Shuttle, mechanical shuttle lever Deluxe 4710: 12F x 12R, 2 range, Power-Shuttle, electro-hydraulic shuttle lever |