Down Load Brochure
Massey Ferguson 1500 Series Vertical Fold Wheel Rakes
Today's mower conditioners and self-propelled windrowers that cut, condition and windrow the crop in one operation certainly make life easier under average conditions. But who can count on average?
Available in three sizes, 1500 Series Vertical Fold Rakes are ideal for the producer who occasionally needs a rake for pulling two windrows together, turning damp windrows or windrowing hay that has been mowed, tedded or laid down
in swaths. Choose between the 8-wheel model 1508 with raking widths up to 20 feet; the 10-wheel model 1510, with a maximum raking width of 22 feet, or the 12-wheel model 1512 with raking widths to 24 feet.

Each model features three different raking widths within its range, as well as windrow adjustment that varies from 48 to 72 inches in 6-inch increments. One single-acting cylinder folds both wings for easy transport. Additionally, all three models are designed so the left-hand wing can be locked, allowing only the right side of the rake to lower for single-side raking or for turning windrows.
Features
WHERE TOUGHNESS AND ECONOMY INTERSECT – Although the 1500 Series offers a low-cost alternative to the 3900 Series, they still feature sturdy construction to stand up to the rigors of field contours, while supporting rake wheels at a pre-set level. You also get:

A rugged box-beam frame that ensures both stability on rough terrain and a long service life.

The same 55-inch-diameter rake wheels used on the 3900 Series for efficient handling of heavy crop materials and easy replacement.

Rake wheels mounted in pairs on pivoting brackets that oscillate over field contours and pick material that others miss.

An adjustable drawbar clevis that allows you to level the rake wheel beams to match the tractor drawbar height.

Your choice of three raking widths on each model, so you can fine-tune your width by simply adjusting the turnbuckle on each wing.
Specifications
| Model | Working Width: ft (m) | Transport Width: ft (m) | Power Requirements: hp (kW) |
| --- | --- | --- | --- |
| 1508 | 15-19 (4.6-5.8) | 8.6 (2.6) | 1125 (510) |
| 1510 | 18-22 (5.5-6.7) | 9.6 (2.9) | 1275 (578) |
| 1510S | 18-22 (5.5-6.7) | 10-8 (3.3) | 1670 (757) |
| 1512 | 20-24 (6.1-7.3) | 9.6 (2.9) | 1440 (653) |
| 1512S | 20-24 (6.1-7.3) | 12 (3.6) | 1860 (844) |
---
MASSEY FERGUSON 3900 SERIES HIGH-CAPACITY WHEEL RAKES

You get a lot more than a heavy-duty frame and inboard rake wheels on the Massey Ferguson 3900 Series high-capacity rake models. You also gain the benefit of infinitely variable raking widths within the minimum and maximum range, along with a wide choice of windrow widths that are easily adjusted with a single crank arm.
Maximum raking width on the 12-wheel 3983 model is 24 feet, while full raking width on the 14-wheel 3986 model is 28 feet. There's even an optional kit to convert the 3986 model to a 16-wheel rake as your operation grows. Still, both fold to as little as eight feet for transport on country roads and through narrow gates.
Because rake wheels are mounted on the inboard side of the folding frame, there are no restrictions to a continuous flow of high-volume hay. There's nothing to keep the windrow from making a clean exit, either, thanks to the overhead frame at the rear.
Specifications
| Model | Working Width: ft (m) | Trans. Width: ft (m) | Power Req: hp (kW) |
| --- | --- | --- | --- |
| 3983 High-Capacity | up to 24 (up to 7.32) | 8.0 (2.4) | 30 (22) |
| 3986 High-Capacity | up to 28 (up to 8.5) | 8.1 (2.5) | 40 (30) |
---
MASSEY FERGUSON 5130 HEAVY-DUTY WHEEL RAKE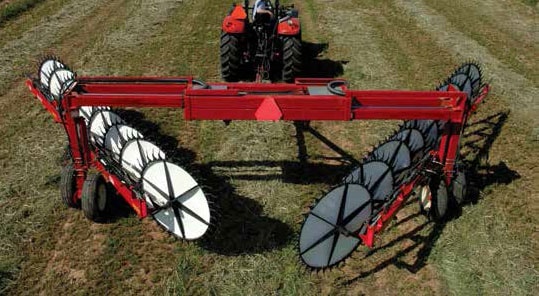 There's a reason we call the Massey Ferguson 5130 a heavy-duty rake. Take one look at the rugged frame and sturdy rake wheels and you'll know this machine was designed for commercial operators who need to satisfy the appetite of big balers and self-propelled forage harvesters. What's more, every function of the 5130 heavy-duty rake is controlled via a bank of electrohydraulic valves operated by a cab-mounted control box.
Equipped with 17 rake wheels on offset rake beams, the 5130 offers raking widths that are infinitely adjustable from 0 to 30.3 feet. Windrow widths are also infinitely adjustable up to 72 inches.
When it comes time for road transport, the 5130 folds to a width of only 12 feet, 3 inches, making it easier to move from field to field and through narrow gates.
Features
If there's any doubt left about the strength and versatility of the Massey Ferguson 5130, check out these features that put it in a class of its own.
Walking beam rear axles and tandem wheels ensure more stability over rough ground and limited oscillation.
The large 60-inch diameter rake wheels are each equipped with 36 rubber-mounted rake teeth for a cleaner job of raking.
Wheel hubs are cast iron for longer life than steel plate. Plus, the wheels hubs, which incorporate an anti-wrap guard, rotate on tapered roller bearing packed in grease.
Each rake wheel has its own torsional dampening spring, so it floats independently. Plus, the amount of ground pressure on the rake wheels is adjustable.
Poly wind panels are standard on all rake wheels to help prevent the crop from blowing after the rake wheels lift it off the ground.
Transport lights and an SMV sign, along with one work light for raking at night, are provided as standard equipment.
Specifications
| Model | Working Width: ft (m) | Transport Width: ft (m) | Power Requirements: hp (kW) |
| --- | --- | --- | --- |
| 5130 | 0-30.3 (0-9.2) | 12.25 (3.7) | 65 (48.5) |
---
MASSEY FERGUSON RK SERIES ROTARY RAKES
It used to be that if you needed high-capacity and wide raking widths, your only option was a wheel rake. Yet, rotary rakes have deservedly earned their reputation for well-formed, less-roped windrows that allow maximum air circulation and fast crop drying.
Of course, with Massey Ferguson RK Series rotary rakes, you can have your cake and eat it too. Available in eight models with crop gathering widths up to 41 feet, RK Series rotary rakes feature gentle crop handling and the capacity that operators of big balers and self-propelled forage harvesters demand for harvester efficiency.
By gently sweeping the crop, rather than rolling it to the center as a wheel rake does, RK Series rotary rakes maximize leaf retention and crop quality while building fluffier, faster-drying windrows. The sweeping action also reduces the potential for rocks, dirt and debris in the windrow for a cleaner raking job. Twelve cam-action tine arms per rotor and a heavy-duty vinyl curtain provide easy adjustment of raking action and windrow width so you can build a high-quality windrow in every situation. The RK3855, RK3845 and RK3835 models even offer the choice of center- and right-side delivery (two swaths) or right-side only delivery (single swath).
Specifications
Model
Working Width: ft (m)
Transport Width: ft (m)
Power Requirements: hp (kW)
Rotor Delivery

RK361DSR
11'6″ (3.5)
5'11" (1.56)
27 (20)
Right hand
RK451DN
14'7″ (4.5)
6′ (1.8)
41 (30)
Right hand
RK451TR
14'7″ (4.5)
6′ (1.8)
41 (30)
Right hand
RK662SD-TRC
18'10" (5.5)-21'10" (6.6)
9'9" (2.98)
26 (19)
Right hand or
center and right hand
RK702TR-SDX
20'8" (6.3)-23' (7)
7'7" (2.3)
45 (34)
Right hand
RK772SD-TRC
21'8" (6.6)-25'3" (7.7)
7'10" (3)
41 (30)
Right hand or
center and right hand
RK802TRC-PRO
23'7" (7.2)-26'3" (8)
9'9" (2.98)
48 (35)
Center delivery
RK1254TRC-PRO
41' (12.5)
9'10" (3)
80 (60)
Center delivery
---