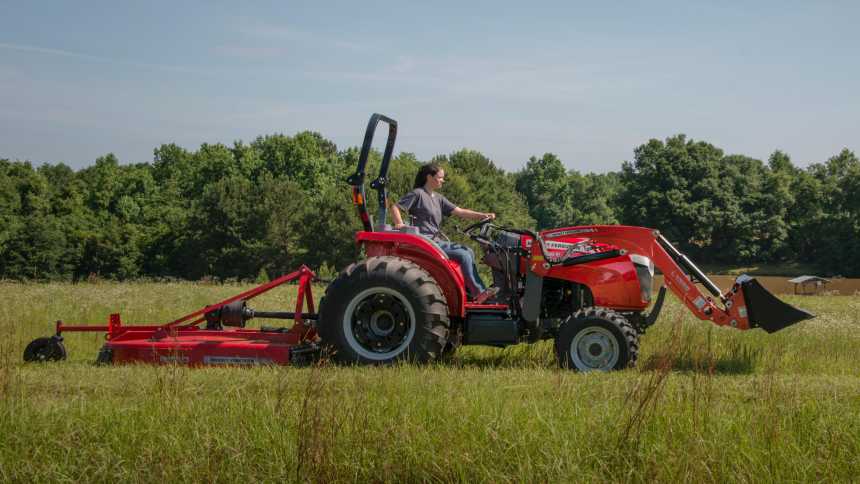 2700E Series (48 – 57 hp)
But today, our new 2700E Series tractors are crafted for a whole new generation of rural lifestyle customers. Hobby farmers. Farm-to-table. Small businesses. Or just people with a lot of property and a lot of jobs to wrangle. Like them, these are hardworking, no-nonsense, roll-up-your-sleeves tractors.

Combining the practicality of a compact tractor with the functionality of a utility tractor, the versatile 2700E Series is ideal for loader work, rotary cutting or any other rear PTO job that needs doing. And while these easy-to-operate tractors combine just the right mix of modern-day innovation, value and comfort, at their core remains the heart and soul of their founders.
Features

STABILITY – We build our Massey Ferguson 2700E Series as stable as can be. So you'll feel comfortable and confident no matter where you're working or who's operating the tractor.

• Wide base – A longer wheelbase to start, plus adjustable wheels for a wider stance, too.
• Sturdy – Compare the tractor weight of the 2700E Series with that of the competition; these tractors have an excellent power-to-weight ratio.

VERSATILITY – This is a tractor that can handle as many jobs as you can come up with.

• Transmission – Choose from an 8 x 8 (4 speed by 2 sub-range) Synchro-Shuttle mechanical transmission to help maximize productivity, or our 3-range hydrostatic transmission (HST) with convenient heel-toe foot pedal that's easy for almost anyone to operate. With its smooth responsiveness, the HST also reduces vibration and noise to maximize operator comfort.
• Lift capacity – Compare our powerful 2,425-pound lift capacity with competitive models. You'll have more 3-point lift capacity and the power to get more done.
• Hitch – Choose a category I or category II hitch to fit the way you work.
• Loader/backhoe – Available with the optional L135E Loader and CB85 Backhoe.

COMFORT – Whether you're working hard or playing hard, your tractor should comfortable.

• Operator station – Clean, comfortable operator station features a well-positioned, suspended vinyl seat for excellent visibility to front and rear implements.
• Easy fuel fill – Convenient ground-level fuel fill with more fuel capacity (14 gal.) than competitive models. Work longer between fill-ups, and never worry about those cumbersome top-fill fuel tanks.

EASE OF USE – Work is hard enough. We've tried to make our tractors as easy to use and maintain as possible.

• No DPF – Our maintenance-free Tier 4-compliant emissions system has no diesel particulate filter (DPF) to worry about changing.
• Easy implement changes – Telescopic lower links make attaching implements a breeze.
• Service – Easy-access service points make preventative maintenance, like checking filters and fluid levels, simple.

Specifications
| Model | Emissions Level | Rated Engine HP | PTO HP | Transmission | Rear Lift Capacity @ 24" behind lbs (kg) | Weight lbs (kg) |
| --- | --- | --- | --- | --- | --- | --- |
| 2705E | Tier 4 Final | 48.8@2600 rpm | 41.4 Gear, 39.0 HST | 8x8 Synchro Shuttle or 3-Range HST | 2,425 (1,100) | Gear: 3,836 (1,740) HST: 3,880 (1,760) |
| 2706E | Tier 4 Final | 57.3@2600 rpm | 48.7 Gear, 45.9 HST | 8x8 Synchro Shuttle or 3-Range HST | 2,425 (1,100) | Gear: 3,847 (1,745) HST: 3,891 (1,765) |