Down Load Brochure
The 1300 Series Hesston Mowers from Massey Ferguson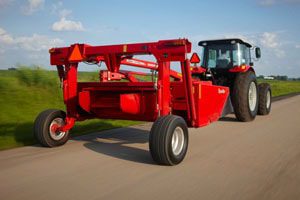 The experience leader.
Ah, the smell of fresh-cut hay. Whether you cut your own crop twice a year or custom harvest 500 acres six times per season, there's always something comforting about the sweet aroma of newly cut forage. Unfortunately, the tranquility associated with the sights and smells of nature can be shattered by a machine that strips the crop or plugs on the job.
That's why Hesston by Massey Ferguson goes to such great lengths to ensure that every Hesston 1300 Series disc mower conditioner features smooth cutting, maximum efficiency and unmatched reliability. It's also the reason we offer five different models of disc-type sizes. We realize that every farm is different and every farmer and rancher has different needs.
Features
The Hesston 1300 Series RazorBar™ cutterbar redefines durability.

If you're looking for commercial grade side-pull disc mower conditioners, look no further than the new Hesston 1300 Series with our patented RazorBar header. Its modular, heavy-duty design literally spells an end to costly downtime.

Not only do the wide-profile teeth offer increased gear-to-gear contact, but the entire drivetrain is designed to handle maximum load all the time.

An industry exclusive, the RazorBar header's sealed bearings don't require constant lubrication, no matter the slope of the terrain. Should the worst happen, the gear spindle will shear outside the cutterbed, keeping contamination away from the gears.

High-carbon steel knives available in a choice of degrees and bevels to match crop and field conditions.

Counter-rotating discs with increased overlap that provide improved cut quality while minimizing crop streaking.

Sloping disc hub mounts to help reduce debris and twine buildup.

Ductile cast-iron module housings machined for perfect alignment and maximum durability.

Built-in rock guards to provide structural support for the cutterbar.

Swivel gearbox and support arm that move with the tongue to keep the driveline components in-line for exceptionally smooth operation.
Specifications
| Model | Cutting Width: ft (m) | PTO hp (kW) | Pull | Conditioner Options | Cutterbar |
| --- | --- | --- | --- | --- | --- |
| 1359 | 9.3 (2.8) | 60 (45) | Side | Steel, Rubber | New idea style |
| 1363 | 9.75 (3) | 70 (52) | Side | Steel, Rubber, Tine | Razorbar |
| 1366 | 9.75 (3) | 75 (55) | Center | Steel, Rubber, Tine | Razorbar |
| 1383 | 13 (4) | 100 (75) | Center | Steel, Rubber on Steel | Razorbar |
| 1386 | 16 (4.9) | 120 (89) | Center | Steel, Rubber on Steel | Razorbar |