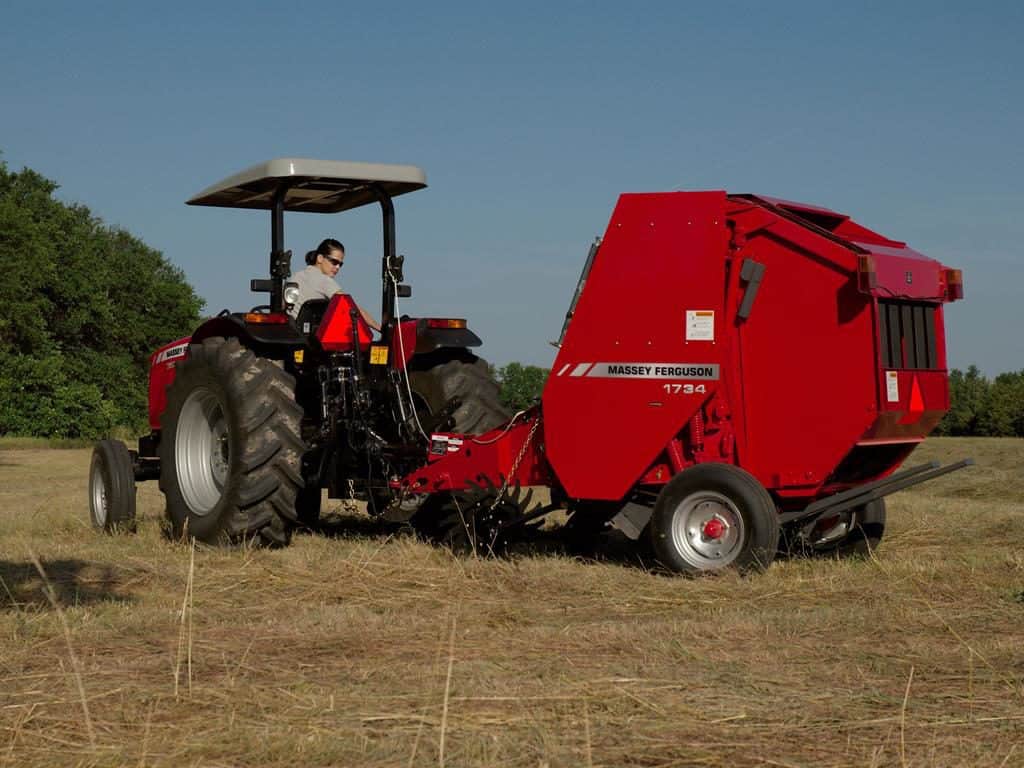 The way we see it, just because you want to turn out top-quality, 3 x 4-ft. or 4 x 5-ft. bales, it doesn't mean you should have to pay top dollar for a baler. That's why we built the Hesston 1700 Series balers to turn out solid, easy-to-handle round bales with as little as 30 PTO HP.
What's more, Hesston 1734 and 1745 balers incorporate the legendary Hesston drive system for long-lasting performance, reduced maintenance, and lower operating costs. The balanced tension system on the 1745 uses twin hydraulic cylinders and two springs — one on each side of the baler — to maintain tension on the bale, reduce strain on the baler frame and build more uniform bales.
Deluxe Auto-Tie Controller (twine and mesh)
The Hesston 1745 Deluxe Auto-Tie Controller gives you fingertip control of automatic, semi-automatic or manual modes. In auto mode, a "full bale" alert sounds when the bale reaches the pre-set diameter, and the baler automatically begins the tying process. In semi-automatic mode, the "full bale" alert signals the operator to activate the "cycle start" switch. In manual mode, the operator assumes complete control of the tying process.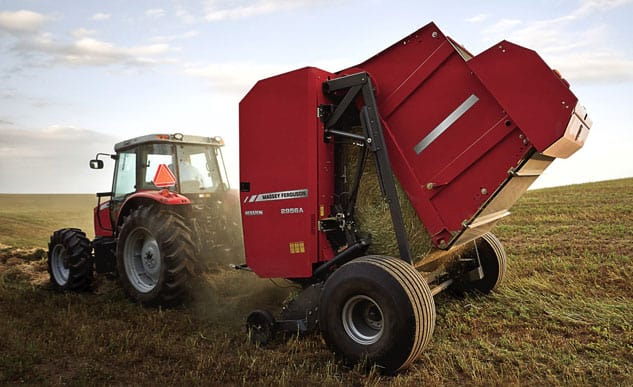 Everything about them saves you time, money and effort.
When we created the Hesston 2900 Series, we knew these balers had to do more than just bale hay or corn stalks. They needed to save you time and money.
That's why the Hesston 2900 Series is designed to be the epitome of efficiency and convenience. Features like our unique QCS give you more control over baling and allow you to worry less. With QCS, belt tension stays consistent, even when ejecting bales. That means better bale density and less chance of belt misalignment.
And our simplified, positive hydraulic kicker ejects bales gently and puts them right where you want them. Also our Auto-Cycle models take the hard work out of building high-quality bales.
Features
With a wide, low-profile pickup and centering augers, the Hesston 2900 Series tackles wider windrows with ease, while maximizing leaf retention. And by packing the chamber all the way to the edges, the result is dense, square-shouldered bales. These tough and durable pickup tines are the same as our industry leading 2200 Series large square balers. So they are durable and tough enough to take on all crops.
With fewer, heavier drive chains, the new Hesston 2900 Series baler drive delivers simple, effective and reliable performance, for even the largest operations.
The hydraulically operated main drive clutch protects against overfilling and maintains tension on belts during bale ejection, enhancing belt performance. For quick, easy maintenance, all major drive components are accessed through the convenient one-piece service doors.