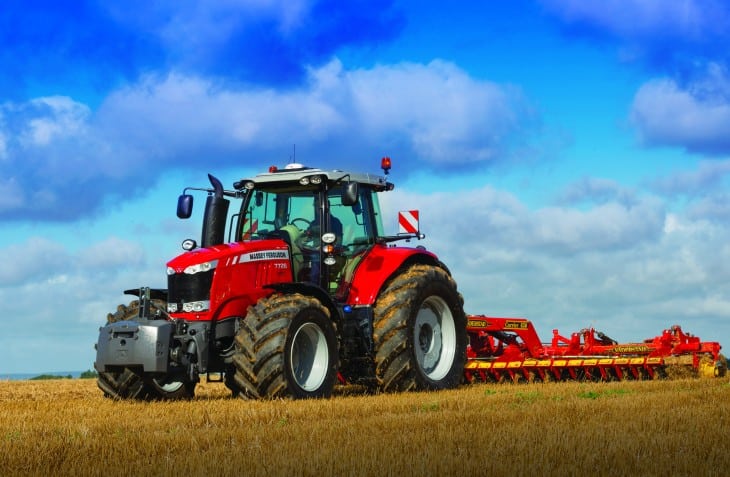 7700 Series (115 – 200 hp)
The Massey Ferguson 7700 Series Was Created For Farms Like Yours.
You told us you wanted high-horsepower performance. But in a frame package that incorporated the agility, versatility and price point closer to a mid-range. Powerful, reliable and easy to operate, these tractors easily jump from tillage, planting and harvesting to lugging, baling and loader work. And with a wide choice of power, transmissions, cab specifications, hydraulics and PTO options, you can adapt these rugged tractors to conquer whatever tasks you face.
Where Power and Versatility Meet
SIMPLY A BETTER DASHBOARD. The last thing you want to worry about when you're working is squinting to read thefine print on the dashboard. Our new slim dashboard design provides for quick, clear and easy analysis of operating data, presented on our setup and information (SIS) screen. The SIS is 50% larger than before with 10 times greater resolution and bigger fonts, so with just a glance you can check basic information on tractor performance, working area, working distance, fuel and urea consumption or engine and transmission temperature. The color dashboard also offers better visibility whether in bright sunlight, poor light or at night.


EVERYTHING AT YOUR FINGERTIPS. The intuitive, right-hand, multifunction joystick lets you keep your eye on what you're doing and not on the controls. The joystick also adds front linkage control capability for even greater productivity when operating front- and rear-mounted implements. Specifically designed for use with the integrated front linkage system, the joystick ensures smooth operation. It also incorporates transmission functions such as forward/reverse selection for silage packing and snow blading, even functions like rear linkage control and cruise control. Plus, it works seamlessly with the full range of Massey Ferguson 900 Series loaders.


ROUTINE MAINTENANCE IS, WELL, ROUTINE. Maintaining your tractor is straight forward and simple, so you won't waste time doing routine fluid and filter checks.

Single-piece hood lifts fully for easy access.
Easy access to remove the cab air filter for cleaning.
Front axle and slim waist bonnet design make oil dipstick and filter access easy.
Engine air filter is easy to access and clean. Up to 90% of dust is removed by the suction system from the exhaust gas.
New radiator design makes for easy cleaning and maintenance.
Features
• SYSTEMS THAT WORK TOGETHER INCREASE EFFICIENCY AND MINIMIZE DOWNTIME. The engine, transmission, frame, axles, steering, PTO and hydraulics on the Massey Ferguson 7700 Series aren't just parts assembled in a factory. They've been engineered and synchronized to work together in unison. We call it Complete Systems Integration. You'll see a higher-performing, lower-maintenance and highly efficient tractor.

• AT THE HEART OF IT ALL, AN ENGINE BUILT FOR MODERN FARMING. Tier 4 Final AGCO Power six-cylinder 6.6- and 7.4-liter engines generate maximum power from 140-255 horsepower and up to 280 horsepower with Engine Power Management (EPM). These tractors feature innovative SCR technology, pioneered by Massey Ferguson in 2008. It's maintenance free and eliminates the need for a diesel particulate filter.

• ENGINE POWER MANAGEMENT: MORE MUSCLE WHEN YOU NEED IT MOST. In tough PTO or transport applications, EPM monitors the load and operating conditions within the transmission and PTO according to forward speed, transmission load and PTO activation. It then responds automatically to the load and adjusts fueling for extra power — up to 25 morehorsepower — when you need it most.

• ELECTRONIC WASTEGATE TURBO. This proactive turbocharger, with electronic wastegate installation, provides higher power capacities and the best engine response at all engine revs. The wastegate ensures that the turbo boost is stabilized, which preserves both the turbocharger and the engine.

• CYCLAIR™ COOLING PACKAGE: A WHOLE NEW PATH TO COOL. Our exclusive and groundbreaking CYCLAIR cooling package more efficiently manages airflow into, within and out of the engine compartment. The tractor's systems — including the radiator — are cooled more effectively, so you'll spend less time on cleaning and maintenance.

• DYNAMIC TRACTOR MANAGEMENT (DTM). Activated by the simple push of a button, DTM allows the engine and transmission to "communicate" for maximum efficiency at any given ground speed. Engine speed is automatically regulated based on the load — although it can be manually set for an upper or lower speed limit, too. If less power is required to maintain ground speed, the engine throttles back automatically for superior performance. You save fuel, reduce engine noise and extend service intervals.

• HEAVY-DUTY REAR LINKAGES – Upgraded rear linkages provide lift capacity of up to 16,700 lbs. Hydraulic rear coupler decompression system for easy removal of implements.

• QUADLINK FRONT AXLE SUSPENSION – Completely maintenance-free suspension provides greater traction and more power to the ground, with best-in-class maneuverability and a smoother ride.

• FRONT MONOBLOC WEIGHT – New 1,874-pound or 3,307-pound monobloc front weights come in compact designs that boost maneuverability with minimal effect on overall tractor length.
Large Frame Specifications
| Model | Emissions Level | Max HP | Rated HP @ 2100 rpm | PTO HP | Transmission | Rear Lift Capacity @ link ends (lbs) |
| --- | --- | --- | --- | --- | --- | --- |
| 7719 | Tier 4 Final | 185 | 170 | 145 | Dyna-6 (24x24) or Dyna-VT (CVT) | Dyna-6=13,500 or Dyna-VT=16,700 |
| 7720 | Tier 4 Final | 200 | 185 | 155 | Dyna-6 (24x24) or Dyna-VT (CVT) | Dyna-6=13,500 or Dyna-VT=16,700 |
| 7722 | Tier 4 Final | 215 | 200 | 165 | Dyna-6 (24x24) or Dyna-VT (CVT) | Dyna-6=13,500 or Dyna-VT=16,700 |
| 7724 | Tier 4 Final | 235 | 220 | 180 | Dyna-6 (24x24) or Dyna-VT (CVT) | Dyna-6=13,500 or Dyna-VT=16,700 |
| 7726 | Tier 4 Final | 255 | 240 | 200 | Dyna-6 (24x24) or Dyna-VT (CVT) | Dyna-6=13,500 or Dyna-VT=16,700 |
Small Frame Specifications
| Model | Emissions Level | Max HP | Rated HP @ 2100 rpm | PTO HP | Transmission | Rear Lift Capacity @ link ends (lbs) |
| --- | --- | --- | --- | --- | --- | --- |
| 7714 | Tier 4 Final | 140 | 130 | 115 | Dyna-4 | Dyna-4=8900 |
| 7715 | Tier 4 Final | 150 | 140 | 120 | Dyna-4, Dyna- 6 or Dyna-VT | Dyna-4 & Dyna-6=8,900 or Dyna-VT=15,500 |
| 7716 | Tier 4 Final | 160 | 150 | 125 | Dyna-6 or Dyna-VT | Dyna-6=8,900 or Dyna-VT=15,500 |
| 7718 | Tier 4 Final | 175 | 165 | 135 | Dyna-6 or Dyna-VT | Dyna-6=8,900 or Dyna-VT=15,500 |