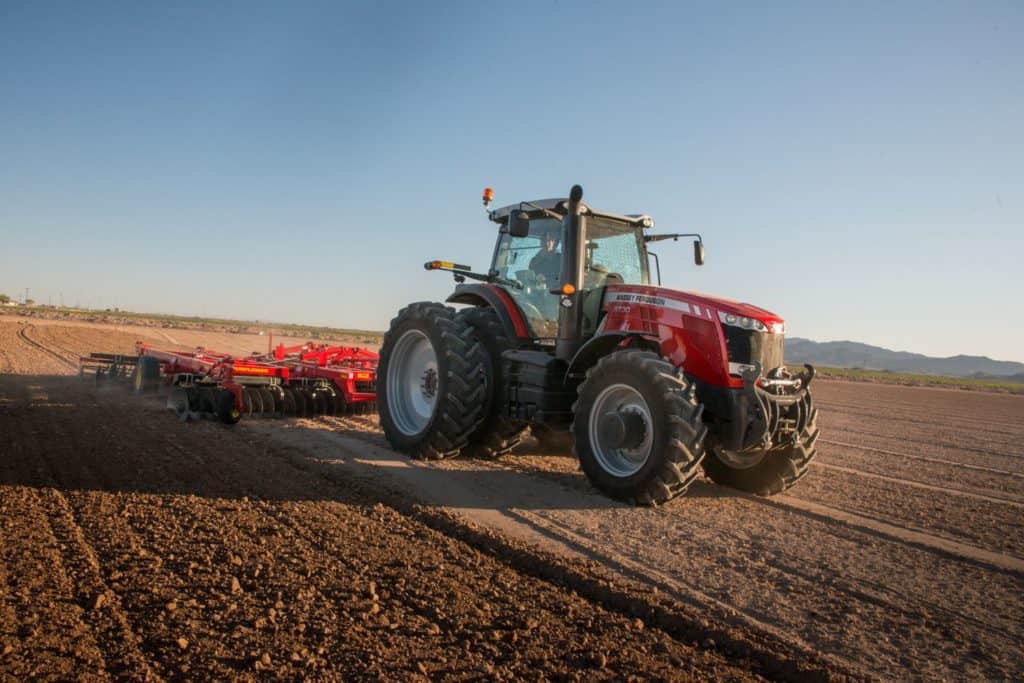 8700 Series (270 – 400 hp)
Meet the tractor that works as hard as you.
More horsepower. More torque. More hydraulics. More versatility. More comfort and control. The new 8700 Series simply offers more.It's the first high-horsepower tractor that can tackle row crop applications, hay and forage, even dairy and livestock — all in a day's work.
Call it power farming.
Now you have the power to accomplish virtually anything on your farm, from pulling large planters and tillage tools, to handling heavy manure tanks and large square balers — faster, easier and with less fatigue.
It's all about performance. And all about you.
We could go on all day about our outstanding capability, functionality and efficiency. But the 8700 Series is really all about your row crops, your dairy cows, your hay and forage, your livestock — and your success.After a century and a half of farming innovation, it's no wonder that someone in the world buys a Massey Ferguson tractor every five minutes. But you haven't seen anything yet. Because these five new powerhouse models are guaranteed to drive that number through the roof.
New, improved everything.
We'll give you a glimpse of it all — from our efficient new AGCO POWER™ 84 engine and CYCLAIR™ cooling package, to our twin turbos providing higher sustained torque, increased hydraulics capacity, new front-end 3-point hitch and PTO, and our redesigned cab with ergonomic B-pillar controls and new electronic dash display.
Horsepower to spare.
Even with all these new performance components, our increased horsepower range is a standout feature — from 270 to 370 max engine horsepower and, in certain applications, up to 400 boosted horsepower.
Specifications
| Model | Emissions Level | Max HP | Rated HP @ 2200 rpm | PTO HP | Transmission | Rear Lift Capacity @ link ends (lbs) | Weight (lbs) |
| --- | --- | --- | --- | --- | --- | --- | --- |
| 8727 | Tier 4 Final | 270 | 240 | 205 | Dyna-VT (CVT) | 26,455 | 23,810 |
| 8730 | Tier 4 Final | 300 | 265 | 225 | Dyna-VT (CVT) | 26,455 | 23,810 |
| 8732 | Tier 4 Final | 320 | 290 | 250 | Dyna-VT (CVT) | 26,455 | 23,810 |
| 8735 | Tier 4 Final | 350 | 320 | 275 | Dyna-VT (CVT) | 26,455 | 23,810 |
| 8737 | Tier 4 Final | 370 | 340 | 290 | Dyna-VT (CVT) | 26,455 | 23,810 |